We Service
Office
Retail
Multi-Family
Healthcare
Distribution
Grocery
Faith Based Organizations
Food Prep
Collection Services Offered
Garbage
Recycling
Bulk Pickup
Containers & Equipment
Permanent Front Load Containers
Permanent Roll Off Containers
Temporary Roll Off Containers
Compactors and Balers – Please call to discuss with one of our sales representatives, so we may discuss your needs.
Priority Waste provides reliable and cost-efficient commercial waste and recycling services in the following categories.
Front Load Service / Permanent Roll Off Container
Priority Waste offers commercial trash collection as often as your business demands.
Recycling
Priority Waste options include commercial customers' cardboard only recycling. Commercial Recycling Containers are available in the following sizes: 6 cubic yard container or 8 cubic yard container.
Bulky and Oversized Items
If you need a special pick up of bulky or oversized items that will not fit in the container, please call us the day before your regularly scheduled pick up day to ensure the extras and/or special pickup will be taken. Please place items on the ground, next to the cart.
Front Load Containers
Available Dumpster Sizes
Roll Off Containers
Available Dumpster Sizes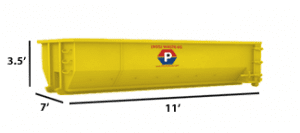 10 Yard Dumpster
Our 10*-cubic yard container is the smallest dumpster available. It is easy to load and is ideal for light residential or commercial cleanups.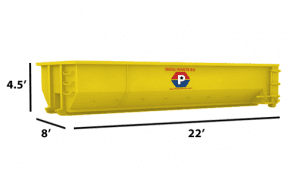 20 Yard Dumpster
Our 20*-cubic yard container is easy to load at a height of only 4.5 feet and can accommodate almost any small to mid-sized project.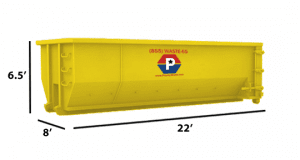 30 Yard Dumpster
Our 30*-cubic yard container is best suited for medium-to-large projects, such as light construction, remodeling and residential cleanups.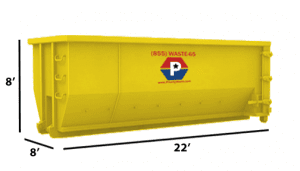 40 Yard Dumpster
The 40*-cubic yard container is the largest dumpsters available. They are great for construction debris, large cleanup projects, fire and storm restoration debris removal etc.
Garbage Compactor
*Containers pictured above are typical dimensions of the container. Actual dimensions of the container may vary. Any specific dimensions needed should be stated at the time of order.