Thank you. We received your Waste/Recycle bin order and are working on processing it for you.
If you choose delivery option your new Priority Waste bin should be delivered in 1-2 weeks.
Directions for pick up: Once order is placed, please call 1-(855) WASTE 65 to schedule the day to pick up the dumpster.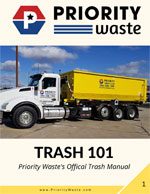 TRASH 101
Priority Waste's Offical Trash Manual