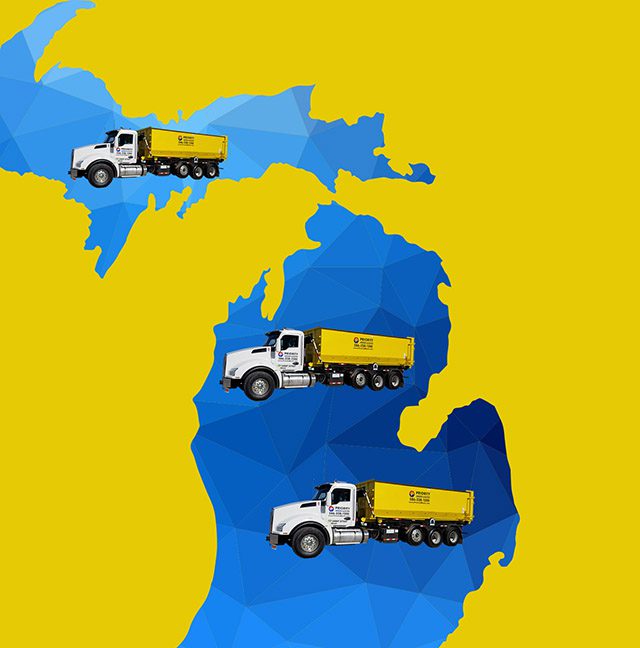 Keeping Michigan Clean
Waste collection is a big deal for everyone. Human beings produce waste. There's no way around it. The average American throws away around 38 pounds of newspaper, 22 pounds of plastic plates or cups, 77 pounds of plastic bottles and jars, 90 pounds of old clothing and shoes, and 77 pounds of cardboard boxes annually. And that is only a partial list of the things that make it into our trash bins.
What would life be like if all that waste was sitting around your home or business? The good news is that you don't have to ever deal with that problem. Priority Waste offers collection services that cover almost anything you need to throw away.
Garbage Collection – We provide garbage collection for residential and commercial customers. We can provide containers for businesses or curbside pickup for your subdivision. Let us know what you need, and we'll provide more information on our services and costs.
Recycling – Recycling can make a difference in our communities. We can provide recycling containers for companies who want to go green. You can also contact us to learn more about setting up a neighborhood recycling program.
Bulk Pickup – Priority Waste can assist with larger loads. Our bulk trash service can take away the things that won't fit in your garbage can. We can also provide dumpsters containers in multiple sizes that are convenient for home renovations and construction projects.
Waste Audits – Our waste audit service will shed light on where most of your trash comes from and the best way to handle it.
Contact Priority Waste today to learn more about our Michigan waste collection services. We are ready to help keep your home, business, and community clean.