Many of you have been reaching out and asking what you can do to help out and show your appreciation to our essential Priority Waste workers during this pandemic. First, thank you for your consideration and kindness!
We love seeing the metro Detroit community come together and look out for one another.  Staying safe throughout this coronavirus pandemic has been a challenge for everyone – especially waste collector providers.
This post is going to cover a few steps YOU can start taking to help us ensure the safety of our metro Detroit waste providers!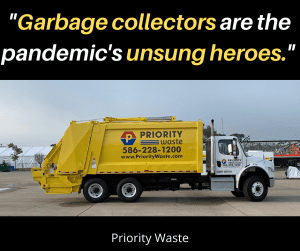 How To Keep Sanitation Workers Safe During COVID-19
Make sure all your trash is bagged and tied closed before being sent out to the curb for pickup.
Consider wiping down and sanitizing the handles of your waste bins before and after.
Always honor the 6 feet distance rule. We miss giving you high fives and saying hello to our community but in order to protect your family and our workers, it is best we smile and wave to one another from a safe distance.
We want to stress that these steps are not required by the city or our company. They are only given as a suggestion to try and help eliminate the spread and keep our community safe. #StopTheSpread
Thank you again for showing kindness and endless support to your metro Detroit waste service provider, Priority Waste.
Stay safe!