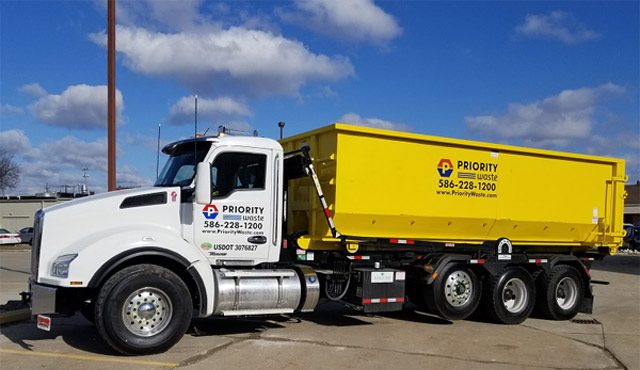 There is a good chance that at some point, you're going to need a dumpster. From construction sites to home moving cleanouts, there are many situations that can generate a lot of trash. Priority Waste offers the best dumpster containers service in Michigan. Why should you consider working with us the next time you need to haul away refuse?
Competitive Prices That Fit into Your Budget
We want to give our customers the best experience possible, and that means maximum value for every dollar you spend. Our dumpster containerss are competitively priced so that they fit comfortably into almost any budget.
Four Dumpster Sizes That Give You Options for Any Job
Four dumpster sizes are available that cover just about any waste removal needs. If you have a light load for a residential cleanup, try our small 10-yard dumpster with a capacity of up to two tons. Our 20-yard dumpster can hold an additional ton while our 30-yard unit handles up to six tons. We also provide a 40-yard dumpster with a capacity of up to eight tons for large projects.
Same Day Service Is Available for Dumpster Emergencies
Sometimes things happen, and you need trash removed fast. Priority Waste offers same day service that can be a lifesaver when you have to work quickly. Give us a call to get a quote for same day delivery.
Access to Industry Experts That Can Provide Advice
Our team consists of industry experts that understand waste removal and recycling. When you choose Priority Waste, you gain access to our knowledge and experience. Contact us today if you have questions or to learn more about our Southeast Michigan dumpster containers.